The building envelope is made up of a number of parts, each working together to protect the wall system from air and moisture infiltration. But with dozens of options for flashing, it can sometimes be hard to keep track of options. Increasing your comfort levels with different types of flashing and how they work as a system can help you educate your customers to ensure they're installing the right products and systems to ensure the long-term integrity of their wall systems.
Consider these strategies for selling flashing:
Get to know adhesives technologies
Flashing tapes come in several adhesive types, but they're not all created equal.
Asphalt adhesive was the norm for many years and offers the lowest cost, but it breaks down and becomes brittle quickly, and it can only be applied within a small temperature window. Butyl-based adhesives offer a strong initial tack and a high level of adhesion, but are not repositionable and may dry out over time. Acrylic adhesives are a newer technology and though often more expensive, offer a number of advantages, including long-term UV stability, repositionable application, installation in a broad range of temperatures, and a high cohesion rate.
(Learn more about these three common adhesive types here.)
Understand what works with other materials
Some products and materials will react to others, causing them to break down early and potentially leading to wall system failures and callbacks. For example, many window manufacturers don't endorse asphalt-based flashing due to the product deteriorating quickly increasing the risk of a water control failure. Follow manufacturer guidelines and, ideally, use products from the same brand. Dealers can play a key role in educating customers about which products work best together. Riverhead Building Supply, for example, has a compatibility list to help employees and customers approach the systems with confidence.
Think as a system
To make things even easier, consider the wall as a system. Most weather-resistant barriers, rainscreens, and flashings are designed to work as a system, with each component working together to give moisture a path down and away from the wall. Benjamin Obdyke offers a series of wall systems designed for a range of applications and carrying a system-based warranty. For example, the Rainscreen System for Masonry provides a fully ventilated drying space behind stucco or stone veneer by combining FlatWrap HP housewrap, Slicker Max rainscreen, and either HydroFlash GP, HydroFlash LA, or HydroFlash UV+ flashing.
Consider specialty applications
Some installations require specialty flashing. For instance, in open-joint cladding systems housewrap and flashing are exposed to UV rays over their life span, so HydroFlash UV+ flashing provides added protection against UV exposure.
Feature educational displays
With many different types of flashing and adhesives, having displays and samples on hand can be critical to furthering understanding. Ideally, create a wall mockup showing how the different flashing options combine with other products to create a system as well as proper installation. Check with your Benjamin Obdyke representative for a customized display rack with sidecar for flashing rolls.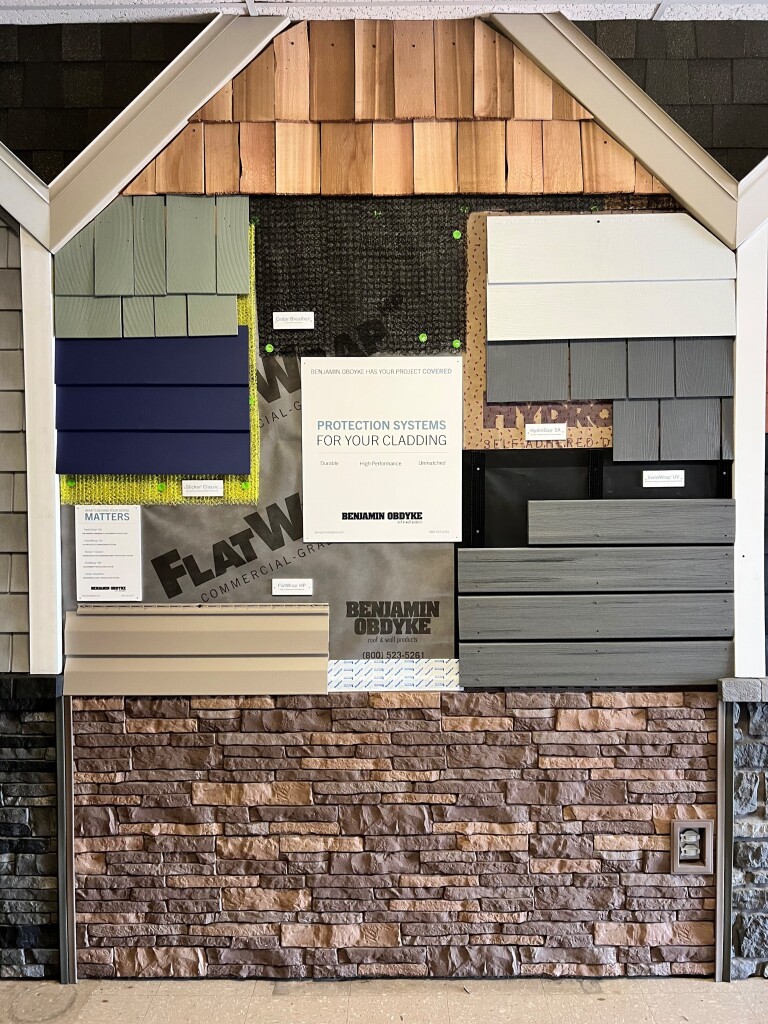 Educate on proper installation
One of the most common errors installers make with flashing tape is not applying pressure. Remind builders to apply pressure to the flashing with a straight edge or J roller to fully activate the adhesive and ensure long-term performance.
Utilize manufacturer knowledge
One of the best ways to educate building pros is to get to know the products and understand building science. Take advantage of your manufacturer representatives, who typically offer product knowledge sessions and installation advice for dealers and pros alike.
To learn more about Benjamin Obdyke products and systems, sign up for a virtual training session and check out our video library, building science white papers and articles, and Instagram videos. In addition, our online System Selector tool can help you and your customers choose the right products.
Ready to learn more? Contact us to set up a virtual training session or browse our library of resources.