Product Backed by a 15-Year Product and Labor Limited Warranty When Used With Company's HydroGap® Drainable Housewrap
HORSHAM, Pa. (January 28, 2013) – Benjamin Obdyke Incorporated, a leading provider of roof and wall products to the residential and commercial construction markets, today introduces its new HydroFlash™ Self-Adhered Flashing, developed to deliver superior adhesion and temperature application and effectively meet the needs of installers. Effective January 15, Benjamin Obdyke will introduce a 15-year product and labor limited warranty. The new warranty, which extends beyond the standard 10-year product only limited warranty, supports the combined use of HydroFlash with Benjamin Obdyke's HydroGap® Drainable Housewrap.
"Providing customers with innovative solutions that help them build better™ is a priority for the company and is especially important in today's market," said Geoff Erhman, Director of New Business Development for Benjamin Obdyke. "Installers have expressed a need for flashing that can be put in place in colder temperatures and will effectively seal penetration points as temperatures shift. HydroFlash addresses those needs and more. And, with the new warranty, we are not only standing by our products, but the labor process as well."
HydroFlash was designed with flexibility and ease-of-installation in mind. Using a new adhesive technology, HydroFlash can be installed in cold weather – down to zero degrees Fahrenheit – and applied wet. Made of a block copolymer and featuring a split release liner, HydroFlash self-seals around nails and delivers stronger adhesion and cold weather application to substrates than self-adhered flashings made of butyl or asphalt. No primer is needed for application. Additionally, for greater longevity and performance, the flashing is UV stable for six months and exhibits less than seven percent degradation over 10 years. Available in 4 -, 6 – and 9-inches with a 7 mm thickness, HydroFlash is compatible with a wide range of building materials including Oriented Strand Board (OSB), CDX Sheathing, vinyl and other building wraps of similar material.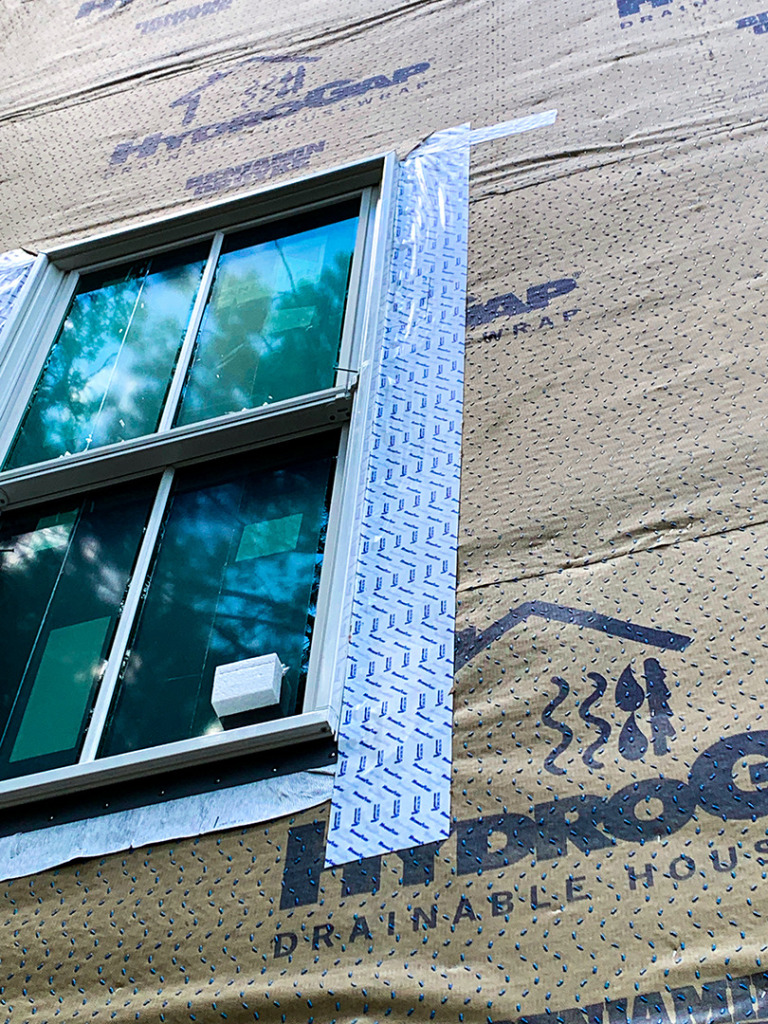 HydroFlash® Samples
GET YOUR FREE HYDROFLASH® SAMPLES TODAY
Using HydroFlash in conjunction with Benjamin Obdyke's HydroGap Drainable Housewrap will help achieve greater adhesion. Supporting this product pairing is the company's new 15-year product and labor limited warranty, which warrants that the product will be free from defect for 15 years if the full drainable housewrap product line is utilized, in addition to cap-fasteners. The company also offers a 10-year product limited warranty if using a standalone approved product.
Additionally, as the result of a strategic partnership with Henkel OSI®, manufacturers of the world's best professional-grade caulks, sealants and adhesives, Benjamin Obdyke has also extended the 15 year product and labor limited warranty for use of HydroGap with the OSI® WinTeQ™ Window Installation System. The OSI WinTeQ™ Window installation system provides for a water-tight window opening with the use of flashing, sealant, and foam components. This method not only creates a tighter envelope, but also helps improve the sustainability of the wall by preventing mildew and mold and allowing the wall to drain.
"Benjamin Obdyke has built a long history of success by providing customers with trusted moisture management products and systems," said Mike Bozich, OSI's® Vice President of Business Development. "This partnership allows OSI® to unite with a top company and expand our market presence. We look forward to this alliance with Benjamin Obdyke and to creating stronger, tighter buildings together."
For details on the new warranty, visit benjaminobdyke.com or contact the Benjamin Obdyke technical support team at 800-523-5261.
Since 1868, Benjamin Obdyke has been helping architects, builders and contractors in the United States and Canada Build Better™ by developing and adding new advances to its product line. Benjamin Obdyke develops, sources, markets and sells proprietary roof and wall products that improve the building envelope and the performance of other building materials for the new construction, repair and remodel markets. Innovations from Benjamin Obdyke, such as the first roofing ridge vent on a roll, the first wood roofing underlayment and the first rolled product to provide drainage and air flow in rainscreen wall assemblies, have helped shape today's building practices. Headquartered in Horsham, Pa., USA, Benjamin Obdyke partners with a network of distributors, dealers, buying groups and cooperatives to reach building professional in the United States and Canada. For more information, visit www.benjaminobdyke.com.