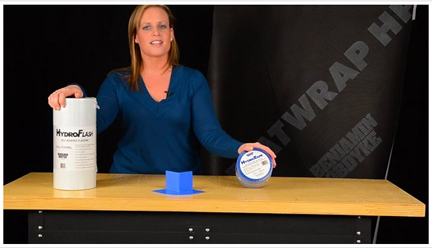 What's New at Benjamin Obdyke
It's been a busy year here at Benjamin Obdyke! We've been hard at work designing and revitalizing new products to help you Build Better. We are pleased to introduce a new housewrap available, FlatWrap® HP, and our new sill solution, HydroCorner™. We've also improved a couple of our products you already know and love. HydroFlash® self-adhered flashing is now offered in a 12" roll and our HydroTape® is now slightly flexible so that it conforms around the 1mm spacers of HydroGap® Drainable Housewrap. It also is hand-tearable and can be used with the new FlatWrap HP, too.
For more information check out our Product Specialist, Elyse, as she demonstrates how these new products work and help you build a better wall.