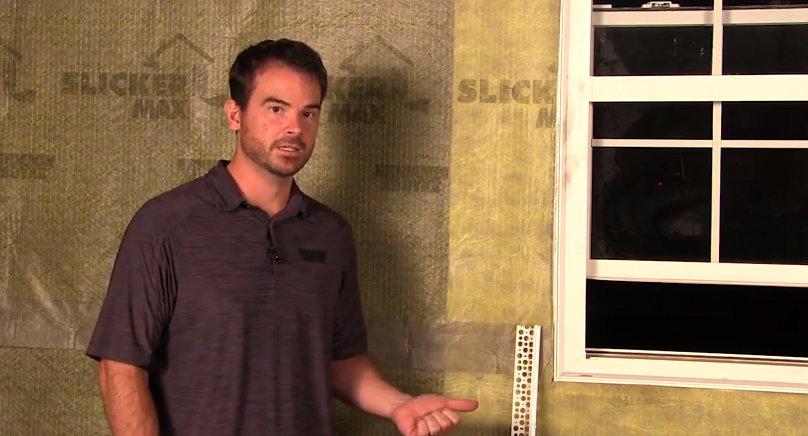 Slicker MAX Rainscreen Installation
Our latest video from the Benjamin Obdyke test house features Slicker MAX rainscreen, formerly Home Slicker Stone & Stucco. Slicker MAX is one of four products in our maximum protection system along with our other rainscreens: Slicker HP, Slicker Classic and Home Slicker Plus Typar.
Slicker MAX rainscreen (formerly Home Slicker Stone & Stucco) includes a filter fabric, providing enhanced UV and compression resistance. The fabric serves as the "sacrificial layer" in stone or stucco applications, preventing mortar from infiltrating the Slicker matrix and blocking drainage and drying capacity. With increased compression resistance, Slicker MAX isn't just for stone and stucco. Slicker MAX is ideal for providing drainage and ventilation behind fiber cement, wood, stone veneer and stucco applications. Plus, it has the longest UV exposure (90 days) out of all our rainscreen options.
As seen in the video below, Slicker MAX is being installed with our FlatWrap HP housewrap and HydroFlash self-adhered flashing. When you install any of our rainscreens with our wrb and flashing you will achieve our 25 year system warranty.
Since we now organize our wall system offerings by "levels of protection", Slicker MAX falls under Maximum Protection. Providing the highest level of moisture management and peace-of-mind, Slicker MAX has a "big gap" for superior drainage and drying performance, eliminating potential for mold and rot in the exterior wall.
Visit the Slicker MAX product page for more information or download our new Wall System Brochure to help you choose the best protection system for your needs.
For a more in-depth look at Slicker MAX and general installation tips, check out the video below.