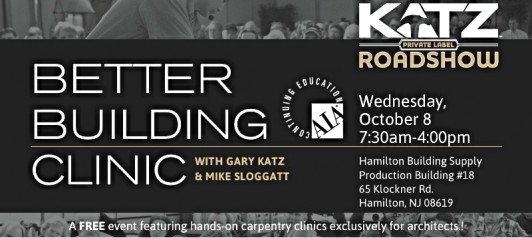 Reserve Your Spot at the First Ever AIA CES Approved Event Presented by Katz Roadshow!
Benjamin Obdyke is proud to sponsor the first ever AIA CES Approved event presented by Katz Roadshow. Don't miss this free event exclusively for architects. Hamilton Building Supply will host a hands-on Better Building Clinic from the Katz Roadshow. This all-day event will feature presentations by Gary Katz and Mike Sloggatt, carpentry specialists and nationally recognized authors and teachers.
The event is AIA CES Approved. AIA members will receive 5.0 LU hours, 3.0 LU/HSW hours.
Wednesday, October 8, 2014
Hamilton Building Supply Co.
65 Klockner Rd
Production Building #18
Trenton, NJ 08619
Event Schedule:
7:30 - 8:30: Breakfast served
8:30 - 9:30: Moisture Content & Wood Movement
9:30 - 10:00: Break
10:00 - 11:00: Pre-fit Exterior Doors
11:00 - 11:30: Break
11:30 - 12:30: Rainscreen walls & Exterior Trim
12:30 - 1:30: Lunch

1:30 - 2:30: Storm-proofing Roofs
2:30 - 3:00: Break
3:00 - 4:00: Decks & Railings
By invitation only. RSVP required.
Mike Sloggatt is a frequent contributor to the Journal of Light Construction magazine and writes for Fine Homebuilding and Tools of the Trade, in addition to moderating the JLC Rough Carpentry Forum. Mike teaches seminars and clinics in all aspects of carpentry and remodeling and is a regular presenter at JLC Live, The Remodeling Show, and the International Builders' Show. He takes education seriously, especially for the construction industry, and appears frequently at association meetings, including NARI and other regional builder and material groups and lumber yards. Mike has more than thirty years of experience. He specializes in high-end, challenging remodels near his home on Long Island.
Gary Katz is the publisher THISisCarpentry.com, a new e-magazine devoted to craftsmen and craftsmanship. For two decades he has been a frequent contributor to Fine Homebuilding, Journal of Light Construction, Fine Woodworking, and other leading trade magazines, in addition to moderating JLC's online finish carpentry forum. Gary's books include The Doorhanger's Handbook (Taunton), Finish Carpentry: Efficient Techniques for Custom Interiors (JLC/Craftsman), and Trim Made Simple (Taunton 2009). His DVD series, Mastering Finish Carpentry, sets the standard for professional video instruction in the construction trades.