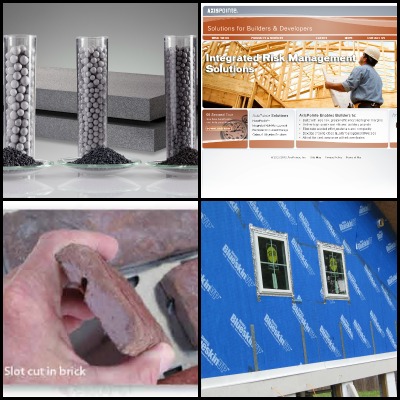 Last month we visited beautiful San Francisco for the PCBC Show. There was a great turn out at the booth and we enjoyed interacting with everyone. We received positive feedback from the builders, contractors and architects who use our products. The moisture management systems we offer fit the growing trends the industry is seeing in that area of the country. Most importantly, we found some innovative products that we'd love to share with you. Check them out!
Neopor – Unlike standard EPS products, Neopor's unique silver-gray color and exceptional insulation characteristics are a result of high-purity graphite integrated into the polymer matrix. Graphite reflects and absorbs radiant energy, decreasing the materials thermal conductivity and increasing its R-value ranging from 4.5 – 4.9 per inch at 75F. It also has a Class III Vapor Permeability rating between 2.5 and 5.5 depending on thickness and density. It's the next advancement in EPS and has been in wide use in Europe and is being introduced in North America.
AxisPointe – AxisPointe provides home builders and contractors with technology solutions to eliminate construction risk and improve efficiency. Their leading edge technologies allow builders, contractors and developers to instantly share building plans, construction documents and legal disclosures. It eliminates risk, waste and inefficiency by using the iPhone app for instant communication. Allow your customers to view jobsite photos to monitor the construction progress. Create and edit documents on the fly for a true paperless experience.
McNear Brick – McNear Thin Brick has a new way to quickly, accurately and securely install Thin Brick. The brick has a special slot cut into the back which allows them to hang from tabs on the BrickFast panels. Once mortar has set in the spaces between the bricks, they are permanently locked in
with a strong mechanical bond. McNear Thin Brick can be ordered specifically to fit in the BrickFast Panel System.
Henry – Henry Blueskin VP 100 is a fully adhered, peel-n-stick system that eliminates air leakage while functioning as a water-resistant barrier. It increases building longevity by providing greater moisture protection than traditional water-resistant barriers. It also enhances occupant comfort by eliminating drafts and improves building thermal performance for reduced energy costs. It even installs easily with common hand tools.
Thank you to everyone who stopped by our booth! We'll see you again next year!