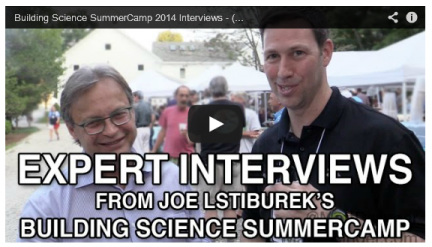 Building Science Summer Camp Recap
We traveled back to Massachusetts and the Westford Symposium on Building Science, as hosted by Building Science Corporation and Dr. Joe Lstiburek. This was the 18th year for the conference and as we heard from many of the original participants, the attendance landscape has changed vastly from days of an elite few building scientists discussing the minutia of building science, to today including Architects, Builders, HVAC, Plumbing and Structural Engineers, Green Building Consultants and the like…they even let Obdyke come back each year too!
For those who haven't attended, the conference includes educational opportunities and presentations throughout the day, and then in evening the crowd shuffles over to Dr. Joe's humble abode for a night of scrumptious food, delicious drinks, fascinating conversations about the effects of building science on our industry and stories from the field.
This year the presentations ranged from exterior building envelope construction details to HVAC systems. Some of the most engaging presentations were The Quirkiness of Stone presented by Matthew Farmer, The Quirkiness of Education by Sam Rashkin, The Quirkiness of Details by George Fritz of Foster Lyons and The Quirkiness of OSB by Chris Timusk.
"It's about water control as a builder. Our rich clients have deep pockets and large
lawyers."
-George Fritz, Foster Lyons
"Instead of selling technical function, sell customer experience."
-Sam Rashkin
Regarding the indoors, Hal Levin's presentation on Indoor Air Pollution and the Design of Buildings was dedicated to his life's work and experiences developing and fighting building codes for the greater good of building inhabitants.
"Governments that can't provide affordable housing for citizens should get out of the way of them doing it for themselves."
-Hal Levin
Another presentation that focused on comprehensive building design was the introduction of the EPA's New Moisture Guide, presented by its head author Terry Brennan. This Guide is a compilation of decades of building science research and field experience and touches on proper building techniques and detailing to create well-built projects.
Building Science Corporation and Dr. Joe in particular, have shown there is a need, and benefit, for comprehensive and collaborate building practice and techniques.
Dr. Joe's advice for Architects and Engineers "Question authority, simplify, and don't do stupid things."
Check out this video from our friend Matt Risinger who put together a recap with Q&A's from the Building Science experts.
If you attended "Summer Camp" this year or in previous years, we'd love to share your experience.